Hi Everyone,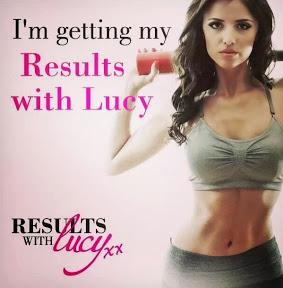 As you all know I have been getting my ass totally kicked by resultswithlucy.com HIIT Harder program. I have done a few of RWLs programs and I have to say this is my all time favorite. My announcement post
So what do you do? You log in every day to RWL and you are given your work out and food plan for the day or told to have an all-important rest day. I have just completed week 6. I am actually behind in the program as I got a bad chest infection and the doctor ordered me to rest as I have asthma. So I can't push through with that even when I wanted to. But anyways I'm back in full swing now. I was worried after having two weeks off, If I would be able to catch up with the workouts but it was no problems at all. The first one back was killer but It was like my body just remembered what I wanted it to do! Bonus.
Each day is different and I love you get a mix of HIIT, weights and even some dance workouts. The workouts last under an hour and They are very hard and I am sweating from places I didn't know exist but they are fun and what I really like is unlike another Celebrity workout DVD they are so varied. They are little videos all pieced together to make your workout for the day. None of them are too long and they are all so fun. Plus there is modifications of the really hard moves in case you are not quite there yet. I know I use a few of them.
It really feels like the trainers and Lucy are there with you and supporting you. I love it when they have a laugh in the video as It feels real. I have to say they are all fab at what they do and create content that motivates you and just pushes you on.
I was going to put in before and after photos here but If I'm honest I really want the impact of the full program.
My results 6 weeks in are as follows
Chest - no change
waist- 3 inches
Stomach- 3 inches
Hips -3 inches
Bum -1 inch
Thighs -2 inches
Total 12 inches off my whole body!
I have not weighted my self as I believe this gives you a very negative opinion of your self,
My Results so far speak for them self. If you are looking for a really good way to get into results with Lucy I would defo go and check out there a newly launched class of 2017 program. This is unlike anything I have ever seen. It's more of a lifestyle than a program you either join for 6 months or a year. I would be on this one but I still have 6 weeks of HIIT and you have to join the new program by the end of January. Plus I am doing the next Extreme program next!
Have you done RWL? If you are doing results with Lucy and would like to add me do so on Facebook or twitter!
MissLJBeauty