My bathroom is a complete mess. Yes, I said it out loud for you all to hear. I am a blogger and my bathroom is not tidy. I mean it is to me but it looks awful. I get sent so many products to test and review there is bottle everywhere. I mean all over the place. I will show you. But before I do. Hold your judgment.
I would like to believe everyone's bathroom looks a bit like this right? Ok maybe not.
I needed a solution and fast. I have tired those shelving units that work with little suctions cup things. This was a nightmare. I would pop the products on it and the whole thing would fall down. We are not at the age where our best friends are all having babies. I want to make sure that when the little ones come to visit the bathroom is a clutter and baby proof as it can be.
Enter tesa, Why oh why did I not know about you before? One of my main problems was. I didn't want to drill into our wet wall. The suction things were as much use as a chocolate teapot. But Tesa has the best system of bathroom storage solutions I have ever come across.
These amazing shelving units are not only strong but look amazing. Turning my bathroom back into a sanctuary and baby safe zone. Let me explain a bit more about these. The ones on the corner are two of tesa aluxx bathroom corner shelf chromed aluminium £45.45. The side shelf is tesa Shower Corner Caddy, £24.69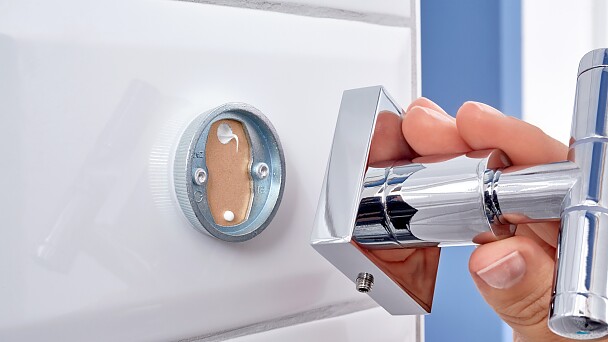 Tesa is all mess-free no screw products. They are so simple to instal. You get all you need in with your new item. You need to decide where you are putting your shelf. You fit the back unit to the wall. Then you use this magic adhesive to firmly secure the fixing in place. You leave it overnight or for over 12 hours to set and attach the shelf to the wall fixing. This is done on the shelves with little screw a ball attachment. On This unit, it is on the right-hand side. This is of course fully waterproof. This looks amazing and can be removed with no damage to your walls. This making it perfects if you are in a rental property too. It will stick to tiles metal natural stone and many more surfaces.
You can see how many products I have managed to put on these units. They are so strong. They really have turned my bathroom into a nice place to be. Not a mess. They look great and are functional. I think I will have to invest in some more from the range.
I honestly can not believe anything that is no screw can hold this many products safety. I highly recommend them if like me you need a bit of bathroom organisation help.